Watson Goodwin and Lenora Goodwin
Watson Jethro Goodwin was one of a set of twins (the other was Jethro Watson Goodwin), and was born January 10, 1878, in Argyle Sound, Yarmouth County, Nova Scotia, to Edward Goodwin and Matilda Nickerson. (See Edward and Matilda for a list of Edward and Matilda's children.) Watson and Jethro were brothers to Sylvanus.
Lenora Goodwin was born in 1877 in Pubnico Head, Yarmouth County, Nova Scotia, to Cornelius Goodwin and Caroline Wilson.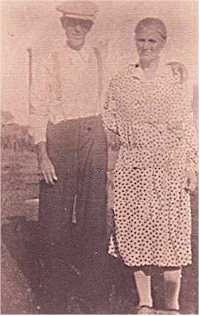 Watson and Lenora were married April 15, 1902, at the Baptist Church in Argyle Head, by Reverend Wilson.
See Children of Watson and Lenora for a list of their children.
Unlike Sylvanus and Mary Leona, who traveled back and forth between Nova Scotia and Massachusetts to find work, Watson and Lenora appear to have moved to Massachusetts and stayed there. At various times, they lived in Boston, Chelsea, Whitman, Pembroke, Ocean Bluff, Brant Rock, and Marshfield, Massachusetts. Watson worked at whatever was available. At one time, he operated a pushcart in Boston selling fruits and vegetables. Lenora also worked. When they lived in Brant Rock, they both worked cleaning summer cottages for absentee landlords.
Watson and Lenora's marriage was one of those rare unions in which the participants not only fulfilled their promise to love each other until death did them part, but they remained "in Love" for all those many years. Lenora was devastated when Watson died in 1952. After Watson's death, Lenora lived with her daughter Helen and husband James. One Sunday morning in 1959, after no response to repeated knocks on Lenora's bedroom door, Helen found her mother lying unconscious on the floor. A picture of Watson was clutched in her hand. Lenora, who had suffered a stroke, died that afternoon without ever regaining consciousness.
Watson and Lenora are buried in Gethsemane Cemetery in West Roxbury, Massachusetts.