Edward Goodwin and Matilda Nickerson
Edward Goodwin was born 28 September, 1842, in Argyle Sound, Yarmouth County, Nova Scotia. He died in 1910.
Edward was the son of John Goodwin and Dorothy Nickerson, and the great-great-grandson of Nathan Goodwin, the first Goodwin in our line to move to Nova Scotia.
Edward married Matilda Nickerson, daughter of Phinneas Nickerson and Rosanna (Rose) Nickerson, on May 1, 1863, in Woods Harbor, Shelburne County, Nova Scotia.
Matilda Nickerson was born September 28, 1843, in Wood's Harbor, Shelburne County, Nova Scotia. She died in 1915.
Edward and Matilda are buried in Fern Hill Cemetery, Hanson, Plymouth County, Massachusetts.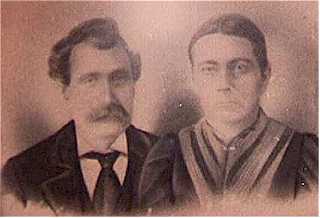 Their children (and, where known, their children's children) are listed below. For a complete list of their descendants, see Edward's and Matilda's descendants.